As many of you know, we have two offices for Fresh Hope Counselling, one on the West End at 17321 108 Avenue NW and one on the South Side, which is changing from the old location to a beautiful new space! Heidi Marchand, our Registered Psychologist on the South Side is in the midst of building out some brand spanking new office space right on Argyll Road. Here are some construction pictures!
We are so excited for Heidi's new office with the big windows, lovely space and great location up on the second floor of a new office building (and don't worry,
there's even an elevator).
Heidi's new office will feature a reception area, play therapy room, her office and a bathroom for client use.
Stay tuned for a grand opening date. If all goes according to plan, Heidi will be working out of her new space by August 1st! YAY! Fireworks. Celebratory cheers. Noisemakers.
New office address is 210, 6958 – 76 Avenue. Same phone number and contact information as before, just a much nicer office space for Heidi and her clients.
That's the spaces — now for the faces!
As of July 2nd, we are pleased to have Stephanie Shea join us in the front office as our
new Administrative Assistant. Stephanie is a recent graduate from CDI College's Medical Office Assistant Program. Don't let her freshness fool you, Stephanie is a seasoned employee who has been busy raising kids and recently aced her school program to pursue some further dreams.
So next time you call the office or get a reminder, you may end up speaking with Stephanie, or good ole Glenn! Either way, we are happy to be able to provide you with the best administrative services as we continue to grow.
Hard to believe it's been four years in our West End Location since it was just me — Beth Murray, and Glenn! Then Cathy Murray within a few months — then Cath Thorlakson, then Heidi Marchand a couple years ago and Sherri Farbin just over a year ago. We want to continue to offer you hope, help and healing through the counselling and psychological services of Fresh Hope Counselling.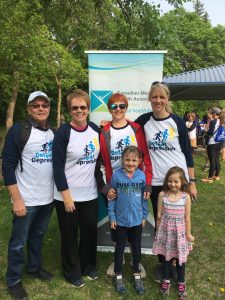 Since I promised you 'faces,' here are a couple of pics from our Defeat Depression Walk in June. We raised the most funds for Edmonton region as a team — $3440.00 between myself, Glenn,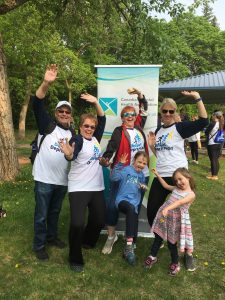 Heidi and Sherri — and two lil troopers, Alicia and Jessa!! Go team! We made short order of that 5 KM walk.  Looking forward to next year when hopefully Cathy Murray WILL be able to join us and not be away on vacation! (Although we did think long and hard about carrying a life-size cut out of her for the walk but we opted for her just being there in spirit!)  Whoot whoot!
Tags: defeat depression, growing, Heidi Marchand, New Faces, new space, South Side Office