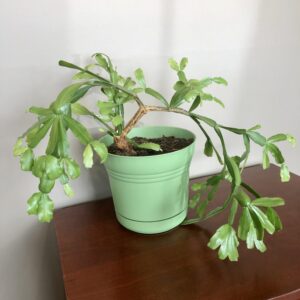 New Growth is something most of us would like to have. This is our Christmas cactus, Six Fingered Sam. He was left in a vacant office for months with no water or care. Forgotten and neglected. We weren't sure if Sam was going to make it. I decided to water him anyway. I think Sam may have just been thirsty and in need of some care. Surprisingly he perked up and showed some signs of life. My Mum is the Plant Whisperer, I am not! So we took Sam out to her beautiful sunny plant ledge.  There were two cacti in the plant and she repotted one and actually debated about keeping Sam. He didn't look the greatest. Mum gave Sam respite care for a few months. Next thing we heard, Sam was going a little crazy! He was growing all kinds of new shoots and beautiful new growth, including one big 'six fingered hand!' Mum started to wish she had repositioned Sam into the middle of the pot but decided to let him do his own come back tour. Six Fingered Sam is resilient! He has grown so many new cacti hands and is very healthy. In fact, he transitioned back to the office to serve as a physical reminder of fresh hope. He may look a little imbalanced, but hey…aren't we all? So how did the new growth come and what can we learn from Sam?
New growth takes belief. When we believe there is hope, things can change. Hopelessness destroys but hopefulness deploys. If we choose to be hopeful, it empowers us and enables us to become different. Better. Healthier. Hope defeats despair and gives us something to hold onto.
New growth takes care. Six Fingered Sam couldn't have new growth without proper care. Sam needed healthy soil, water, sunlight and a wise gardener. For us, we need a healthy place to put our roots in to draw nourishment. This might even require a re-potting. We need physical, mental, emotional and spiritual food/care. The gardener may be a trusted friend or family member.  It may be a Counsellor or a support group. For those with a faith perspective, it might be tapping into their faith and the care of their Gardener.
New growth takes time. Six Fingered Sam didn't recover from the neglect quickly. It did take time to recover. However, time does not heal all wounds — sometimes it just makes them fester and rot. Time and care and hope can bring healing. Allowing a process is something we often struggle with. We are partakers of instant gratification — raised with microwaves and fast food. There is a wise saying 'the journey is the destination.' Give yourself time. Be gracious with the process of new growth.
Be like Six Fingered Sam. Believe there is hope. Allow yourself to receive care — reach out for it. Take it one day at a time and just let yourself get healthy and well. The new growth will come. Enlist the skilled hands of a trained and experienced gardener — whether it is through a Counselling Clinic like Fresh Hope Counselling, a Support Group like GriefShare or AA, a medical doctor/health practitioner, a church small group, a caring friend or family member.
#BeLikeSam
Tags: belikesam, counselling, how to grow, how to heal, new growth, recovery, resilience, support